Réforme agraire et reconfiguration du régime de gouvernementalité rurale dans Les Tuxtlas, Mexique, 1920-1945
How has the issue of property rights to land been employed in the processes by which state and rural governmentality regimes are constructed in Mexico? The agrarian reform of 1917 has been seen as having played a decisive role in the reconfiguration of relations between the state and local government bodies. For its implementation opposed two conceptions of state power, citizenship, property and the market: the first centered on the autonomy of local systems of property rights and political governance; the second was based on the centralization and verticality of relations between the state and rural communities, with the state and labor union bureaucracies playing a structuring role in the allocation and regulation of land rights. From 1935 onwards, land distributions provided leverage for establishing coalitions between the agents of the central state and subaltern sectors of village societies. In seeking to emancipate themselves from traditional patriarchal structures of power, the latter set in motion multiple internal frontier processes that led to the reconfiguration of the politico-territorial and institutional structures of rural Mexico.
Cet article éclaire les formes de mobilisation de la question foncière dans les processus de construction étatique et du régime de gouvernementalité rurale au Mexique. Il aborde la façon dont la réforme agraire a été mobilisée comme un enjeu central de reconfiguration des rapports entre l'Etat et les instances locales de gouvernement. Sa mise en œuvre a opposé deux conceptions du pouvoir étatique, de la citoyenneté, de la propriété et du marché : la première, centrée sur l'autonomie des dispositifs locaux de gouvernance foncière et politique ; la seconde reposant sur la centralisation et la verticalité des liens entre l'Etat et les communautés rurales, à travers le rôle structurant des bureaucraties étatiques et syndicales dans l'allocation et la régulation des droits fonciers. L'article montre comment, à partir de 1935, les distributions de terre ont servi de levier à la construction de coalitions entre agents de l'Etat central et des secteurs subalternes des sociétés villageoises qui cherchaient à s'autonomiser vis-à-vis des structures de pouvoir traditionnelles, à travers l'activation de processus multiples de frontière interne qui ont conduit à reconfigurer les structures politico-territoriales et institutionnelles du Mexique rural.
Fichier principal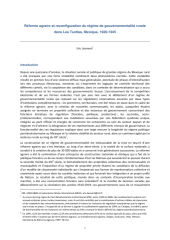 Léonard_Critique Internationale_2017.pdf (1.1 Mo)
Télécharger le fichier
Origin : Files produced by the author(s)